Contributors
We appreciate all of our contributors and they are listed in order of there extreme generosity
It may take up to a week to post all contributors, if an error has occurred please contact the webmaster.( jrojas@arii.org )
---
$5,000 and Above Contributors
When you own a DUI drysuit you become part of an elite group of divers. The comfort, thermal protection and durability your DUI product provides extend beyond the physical. Memories of incredible dives and sites seen can never be fully captured in words or photos. They must be experienced! DUI invites you to explore your DOG adventures further. The adventure has just begun!

DUI Website

PADI (Professional Association of Diving Instructors) is the world's largest recreational diving membership organization. The membership includes dive businesses, resort facilities, academic institutions, instructor trainers, dive educators, divers, snorkelers and other watersports enthusiasts. Professional PADI Members (dive centers, resorts, educational facilities, instructors, assistant instructors and divemasters) teach the vast majority of the world's recreational divers, issuing nearly 946,000 certifications each year. PADI Professionals make underwater exploration and adventure accessible to the public while maintaining the highest industry standards for dive training, safety and customer service.
| | |
| --- | --- |
| | SCUBA EMPORIUM has served the Chicago metropolitan area longer than any other dive center. We are the oldest licensed facility in Illinois offering entry level through instructor programs for divers, and were the first PADI Career Development Center in the Midwest. SCUBA EMPORIUM'S Alsip location is a PADI Five-Star Instructor Development Center established in 1973. |
Our World-Underwater

is moving into our 32nd YEAR. From a small dive show in downtown Chicago to NOW, the largest continuous running show in North America. We are very proud of our progress over the last 32 years. Today Our World-Underwater remains dedicated to presenting the latest and most exciting information on international travel and SCUBA diving. Boasting over 200 exhibitors, the 2002 show is expected to have over 12,000 in attendance. Our World-Underwater atracts SCUBA divers and traveling enthusiasts.

Our World Underwater Website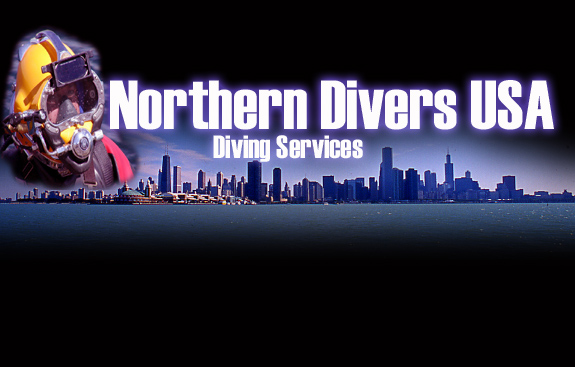 Northern Divers USA
Commercial, Industrial, Environmental Diving Services.
Phone:Frank (847)293-8465
Mark(630)417-5175

United Rentals
United Rentals is North America's largest equipment rental source, offering over 600 different types of equipment - everything from heavy machinery to hand tools - all the equipment you need, when and where you need it.
Hannah Marine
Hannah Marine
James A. Hannah Sr. recognized the value of using tank barges to move liquid cargo around the Chicago area in 1948, when he founded Hannah Inland Waterways. His vision, which generated freight savings for former trucking customers, today has been transformed into a wide-ranging fleet of tugs and barges that ply the Great Lakes, St. Lawrence Seaway and inland waterways.

Ozinga Bros., Inc. began its operation out of Chicago's south suburbs in 1928. Today, Ozinga produces and delivers ready mix concrete to customers and jobsites throughout Chicagoland and Northern Indiana with top quality and service. Ozinga has always strived to be a leader, bringing our customers the very best product and latest technological innovations available to serve their needs. Our friendly order takers and tremendous fleet are ready to serve you today.

Ozinga Website
---
$1,000 to $5,000 Contributors
Wayne Holman
Hank Fiene(Chicago Dive Charter)
Association of Builders and Contractors of Illinois
Lynette and Gary Shemanski Diamond Pool
Midwest Diving Specialists
---
$500 to $1,000 Contributors
Dave Wetherald and family
Patrick and Sherry Hammer Scuba Emporium
Steve Lamphear
(Bob Schak)www.DiveChicago.com
Claude Jewel (Illinois Institute of Diving)
Harper Sales Co. Ltd. (Bo Harper)
The Damas Family
Page Development
Great Lakes Underwater Exploration,Inc.
Underwater Archeological Society of Chicago
Peter Chval ( South Park Enterprises )
Steve Sembach
Great Lakes Shipwreck Research Foundation
---
$100 to $500 Contributors
Aqua Knights of Joliet, Inc.
Jack Ryan
Joe Rojas
Gary Joyce
Maurine Sweeney
Peter Desmond
F.H. Leinweber Co.
Carole E. Mackintosh
Addison Physical Medicine & Rehabilitation, LTD.
Pearl Lake Club Corporation
Marilyn Strle
H20gres Skin & Scuba Club, Ltd.
Tritons Dive Club
Don Doherty
Keith Pamper
Aquarium Divers Scuba Club
Mary Attea
Nial Funchion
Scott Reimer
NYCO Products
Bruce Johnson
Captain Dale's, Inc.